This is a fairly brief piece as I haven't done one for a while. Unlike usual, it's pretty much an opinion piece.
---------------------------------------------------------------------------------------------------------------------------------------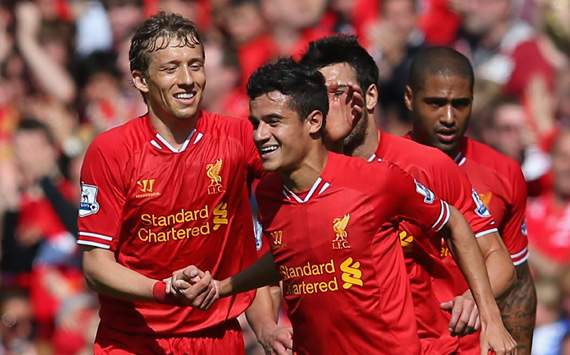 When Coutinho and Sturridge moved to Liverpool in the January transfer window, it was clear to see the impact they had. Liverpool scored more goals, they looked a constant danger in attack, particularly on the transition, and had two players on form assisting Suarez in penetrating through the middle.
The quandary that Brendan Rodgers had was how to get them both in the team along with Suarez. Sometimes he went with a shape fairly close to 4-4-2, with Sturridge and Suarez up front and Coutinho on the left. Sometimes it was a 4-2-3-1 with Sturridge right, Coutinho behind Suarez and Henderson starting on the left. Sometimes Henderson would swap with Coutinho. Sometimes he would drop Sturridge altogether and go 4-3-3 with Coutinho again on the left.
The question of where to play Coutinho is an interesting one. You can play him wide and allow him to cut inside between the lines. However is this the best use of him and does it limit his role in terms of orchestrating?
When you play in the middle as a number 10 you get more touches of the ball, first of all because the play comes through you more. When Coutinho plays as a left winger, he can of course come inside but his movement is limited in early phases of possession because of the risk of losing the ball and becoming open on transition. This would especially be exposed by the more open dynamic of games in the Premier League. When you've had a certain amount of time in possession and got into a position where you have pushed the opposition back onto their own area and you have your full backs high and wide and your defence pushed up in order to press if you lose the ball, then your wide players have more liberty of movement. However until that point, Coutinho's ability to orchestrate is limited.
When he plays as a number 10 though, he has the freedom to move into horizontal channels between the lines, or he can move wide or drop deep to receive the ball. When he plays in the middle his ability to orchestrate play is enhanced because he can pass anywhere on the field - forward, backwards, to either side. When he plays wide, that is limited. Pep Guardiola describes the sideline as the best defender because if you play there, you are limited in which direction you can go. He believes that the very best players on the ball have to play in the middle.
The second thing is when he plays as a left winger, he has a direct opponent. When he plays in the middle, he will tend not to. One of the reasons playing between the lines is talked about so much nowadays is that players that move there will not have a direct opponent and in order to mark them, teams have to break their lines, either by a midfielder dropping off and marking them or least blocking the passing lane or a centre back stepping out, which opens up space behind. You will often see a forward make runs between centre backs on the same side as the number 10 in order to make sure that the centre backs don't step out. When Coutinho plays there, there is more emphasis on the opponent to shut him out of the game by keeping shape and staying compact, rather than actual marking - the emphasis is on the collective rather than the individual. That means when the opponent loses compactness and space opens up inside their block, Coutinho is immediately freed up. Even if a team restricts this, he is always able to drop off and receive the ball in deeper positions or link up in the wide areas.
The case where Coutinho would have a direct opponent would be against a team that plays a '1-2' in midfield. However because of the extra freedom he has in the middle mentioned earlier, he can always move into positions where he either cannot be marked by a defensive midfielder or opens up space for players like Sturridge to drop off between the lines.
It would be wrong to say he should never play wide because he has the qualities to play there (1v1 ability, good acceleration, intelligent movement) and can open a team up there, particularly when the opponent plays a '1-2' in the middle where there is less support for the full back from the midfield. However, his ability to orchestrate there is more limited than it is in the middle and because he mainly tends to turn onto his right foot, he becomes more predictable to mark out wide. That is why if Liverpool want to get the best out of him, he has to play as a number 10.